The Multimedia Prince, James Reid will be playing an important role in the upcoming movie, "Miss Granny."
His role, Jeboy is the grandson of the main character played by the vatican actress Nova Villa and later on by Sarah Geronimo.
Jeboy is dreaming of being a musician and a song-writer. He belongs in a band of three. Although his mother is very much against his passion, his grandmother is very supportive.
Her grandmother was once a great singer herself, however her husband died young and she had to take care of her son all by herself. All her life, she devoted into providing for him.
When she miraculously gets stuck in the body of her 20-year old self, she finds it as an opportunity to live her life once more. She then meets her grandson again who doesn't recognize her and invites her into his band.
During the press junket held for the movie, James revealed a funny moment where Sarah was too shy to slap him.
He revealed this through the interview with ABS-CBN.
He said, "She had a hard time slapping me. She's too kind."
"Hit me, it's good, just hit me really hard. I'm used to it. When I'm acting with Nadine, she has a heavy hand. [Her slap,] it's always real."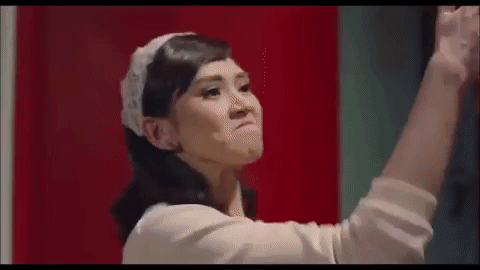 Find out and watch this heavy seen between Sarah and James in "Miss Granny," showing in cinemas on August 22! Also starring are Ms. Nova Villa and Xian Lim. Directed by, Bb. Joyce Bernal.